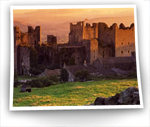 Bolton Castle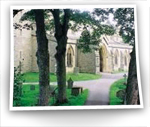 Jervaulx Abbey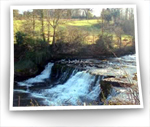 Aysgarth Falls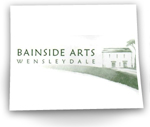 Bainside Arts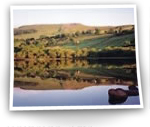 Lake Semerwater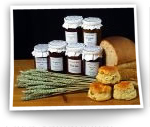 Raydale Preserves
Wensleydale Information
The area, and places to visit
Bolton Castle
Surrounded by open, rolling countryside, the massive fortress of Bolton Castle is built around a quadrangle with four square towers at the corners. It dates from the late 14th century and has been described as the "climax of English military architecture". In 1568 Mary Queens of Scots, was imprisoned here after her flight to England and her bedroom can still be seen along with the chapel and dungeon. After being besiged by Parlimamentarian forces during the Civil War, the castle was finally dismantled in 1645.
Jervaulx Abbey
This once powerful Cistercian foundation was established on this tranquil spot in the valley of the River Ure in 1156. It was completely destroyed when religious houses were dissolved by Henry VIII in the 1530s and the exact location of the Abbey Church was only rediscoverd during excavations in 1805. Originally a building of great beauty, little now remains except some graceful arches and pillars.
Middleham Castle
Now a hillside village known for the breeding and training of race horses, Middleham was once the capital of Wensleydale and an important market town. Middleham Castle, which dates from Norman times, passed into the ownersip of the powerful Neville family, Earls of Warwick, and later of Richard III. Much visited by royalty and nobility, it became known as "the Windsor of the North". Eventually abandoned and plundered for building material, with its imposing Gatehouse and Keep, remains.
Askrigg
This charming, compact village has fine Perpendicular church overlooking a small cobbled square with an old stepped market cross. Once it was the main market centre for Upper Wensleydale but a turnpike road built in 1795 diverted trade to Hawes. Some of the county's highest fells are found in the area including flat-topped Addleborough. J.M.W. Turner stayed at Askrigg while painting in the Yorkshire Dales and, more recently, it was the setting for the television series " All Creatures Great and Small".
West Burton
Dating from before the Norman conquest, this attractive village has an extensive green and market cross which testify to West Burton's former importance as a market. The village lies beside a tributary of the River Ure and nearby West Burton Falls are among a number of notable falls in Wensleydale.
The Yorkshire Dales National Park encompasses a wide variety of scenery from wild upland moors to delightful wooded dales and Wensleydale is one of the broadest and most fertile of the valleys. Near the tranquil little village of Aysgarth is one of Yorkshire's most memorable beauty spots where the River Ure plunges down a series of waterfalls known as Aysgarth Force. The Upper, Middle and Lower Falls make a fine spectacle especially after heavy rain.
Wensleydale near Burtersett
Wensleydale one of the broadest and most open of the Dales and its slopes are patterned with drystone walls which enclose lush pastureland watered by the River Ure. It is seen here from near Burtersett High Pasture which rise to 1,686 feet.
Hardraw Force
Less than two miles from Hawes is the hamlet of Hardraw where the dramatic waterfall known as Hardraw Force is believed to be the highest unbroken fall in Great Britain. A spectacular sight, especially after heavy rain, it cascades 100 feet over a limestone crag which overhangs so far that is possible to stand behind the water without getting wet.
Hawes
Yorkshire's highest market town, Hawes is a bustling, greystone town which takes it name from the Anglo-Saxon word "haus" - meaning " a mountain pass". Situated on the route of the Pennine Way and surrounded by splendid mountain scenery, Hawes is an excellent centre for both walking and climbing. There are breathtaking views from the summit of the nearby fells, which are some of the county's highest at around 2,000 feet. The Dales Countryside Centre is located at Hawes and it is also here that the famous Wensleydale cheese is both stored and marketed.
Bainside Arts
Based in Bainbridge, we offer a range of arts and crafts courses, led by experienced teachers and practising artists. Our aim is to give an opportunity for spiritual growth and development through the pursuit of these activities.
Lake Semerwater
Set amongst high, imposing hills, an interesting spectacle for anyone wishing to enjoy the views, wildlife or picnics. An ideal base for walkers. Day tickets for fishing, sailing, canoeing and windsurfing. Fishing matches, outdoor pursuits, and canoe club bookings welcome. Open all year.
Raydale Preserves
Produce made from a Yorkshire Dales farm kitchen. Taste the hand-made jams, jellies and chutneys. Please phone us to find your nearest outlet. Visit us, follow our conservation farm trails.