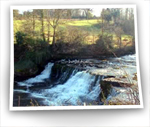 River View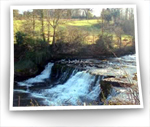 Aysgarth Falls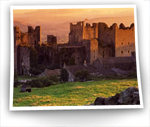 Bolton Castle
Carperby Information
A little about Carperby
A fine example of the typical Dales linear village, with its seven-stepped village cross, Carperby was honeymoon host to Mr and Mrs Alf Wight, better known as James Herriot, the author who brought international fame to the Yorkshire Dales. They stayed at the Wheatsheaf Inn in the village.
Carperby is on the sunny, south-facing slope of Wensleydale and offers fine views. It's also just a pleasant stroll from Aysgarth Falls. Also just a short walk away is Bolton Castle, a well preserved medieval castle.
Aysgarth Falls
Aysgarth is perhaps best known for its breathtaking triple flight of waterfalls, carved out by the River Ure on its descent to mid-Wensleydale. The Upper Fall (pictured right) featured in the film Robin Hood, Prince of Thieves.
There is car parking at the Yorkshire Dales National park Information Centre and other parking on the south of the river. Park here and enjoy one of the well-signposted walks which wind through the wooded gorge, offering spectacular views (and photo opportunities) of the river and falls. The area is carpeted in wild flowers in the Spring and Summer, and wild birds, squirrels and deer can often be glimpsed amongst the trees.
High above the teeming falls, the imposing old church of St Andrews has the largest churchyard in all England.
Another place well worth a visit is the Rock Garden at the western end of the village.